Getting Comfortable with the Menopause / I ddod yn gyfforddus â'r Cyfnewid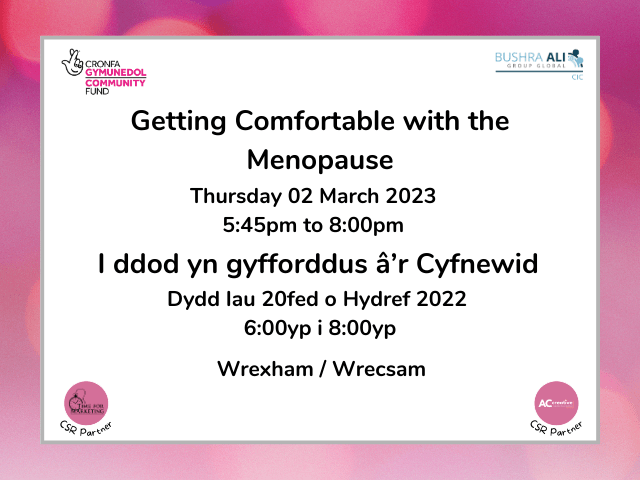 Come and hear from our speakers talking about the menopause. You can share your experience should you wish but do not feel obliged to speak!
Children welcome. Play area for children available.
In celebration of World Menopause Day!
5:45pm arrivals for drinks and refreshments. A 6:00pm prompt start.
This event will take place in person in Wrexham, North Wales.
---
Dewch i glywed gan ein siaradwyr sy'n trafod am y cyfnewid. Gallwch rannu eich profiadau os hoffech wneud ond peidiwch â theimlo bod rhaid siarad!
Mae croeso i blant. Bydd ardal chwarae i blant ar gael.
I ddathlu Diwrnod Rhyngwladol y Cyfnewid!
Cyrraedd am 5:45yp am ddiodydd a lluniaeth. Dechrau'n brydlon am 6:00yp.
Bydd y digwyddiad yma'n digwydd yn gorfforol yn Wrecsam, Gogledd Cymru.