Hate Crime has No Place in our Society / Nid oes gan Drosedd Casineb le yn ein Cymuned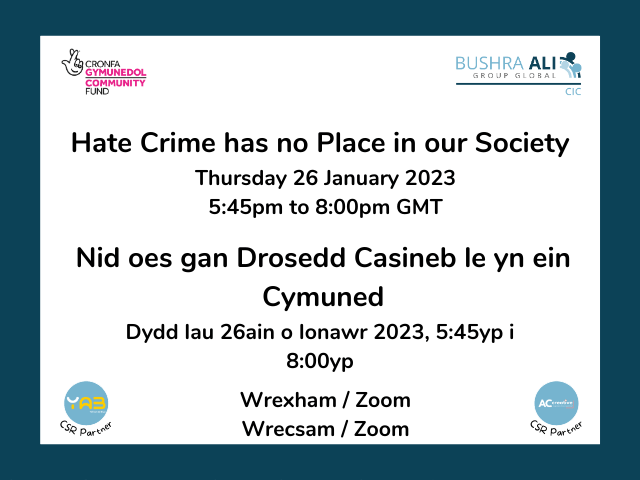 Join us to hear from Our Police and Crime Commissioner, Hate Crime Officer, Crown Prosecutor and others working to support individuals impacted in the community by hate crime.
Hear from individuals sharing their lived experience of hate crime and the impact it had on their lives, together with the changes they would like to see.
For in person attendees, there will be free refreshments.
5:45pm arrivals for drinks and refreshments. A 6:00pm prompt start. We will be live on Zoom from 6:00pm.
This event will take place in person in Wrexham, North Wales but will also be accessible live via Zoom. Please select the correct option when booking your place. The Zoom link will be sent to you separately.
---
Ymunwch â ni i glywed gan ein Comisiynydd Heddlu a Throsedd, Swyddog Trosedd Casineb, Erlynydd y Goron ac eraill sy'n gweithio i gefnogi unigolion o fewn y gymuned sydd wedi eu heffeithio gan drosedd casineb. Clywed gan unigolion sy'n rhannu eu profiadau o drosedd casineb a'r effaith gafodd ar eu bywydau, yn ogystal â'r newidiadau hoffent weld.
Ar gyfer mynychwyr corfforol, bydd lluniaeth am ddim.
Cyrraedd am 5:45yp am ddiodydd a lluniaeth. Dechrau'n brydlon am 6:00yp. Byddem yn fyw ar Zoom o 6:00yp.
Bydd y digwyddiad yma'n digwydd yn gorfforol yn Wrecsam, Gogledd Cymru, ond gallwch hefyd ymuno'n fyw dros Zoom. Dewiswch yr opsiwn cywir pan rydych yn archebu eich lle. Byddwch yn derbyn y linc Zoom ar wahân.