Managing the Menopause Including its Impact at Work / Rheoli'r Cyfnewid a'i Heffaith ar Waith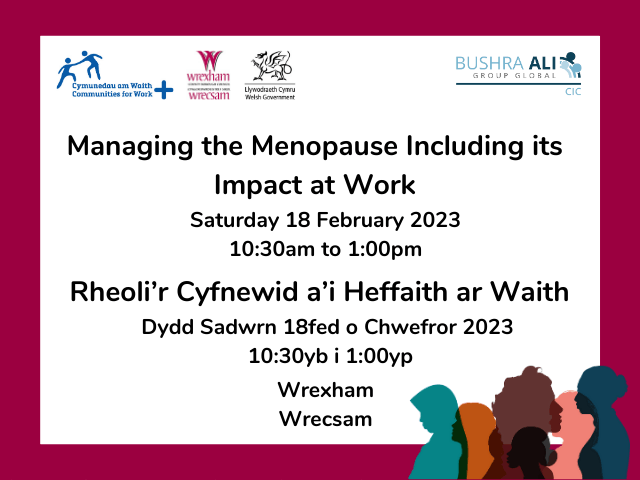 In this workshop we will discuss getting comfortable in managing the menopause including the impact it has on us in the workplace. It will be a confidential space to share thoughts and feelings and to gain helpful tips.
Spaces are limited to 30 women.
To book a space, please complete the Google form following the link:
https://forms.gle/qkuwJPNiH9QDm48u6
---
IYn y gweithdy yma, bydd trafodaeth ar gadw'n gyfforddus wrth reoli'r cyfnewid a'r effaith geith o arnom ni yn y gweithle. Bydd yn le cyfrinachol i rannu meddyliadau a theimladau ac i dderbyn awgrymiadau defnyddiol.
Mae llefydd yn gyfyngedig i 30 o fenywod.
I archebu lle, cwblhewch y ffurflen Google drwy ddilyn y linc:
https://forms.gle/qkuwJPNiH9QDm48u6