My Career, My Choice, My Journey / Fy Ngyrfa, Fy Newis, Fy Nhaith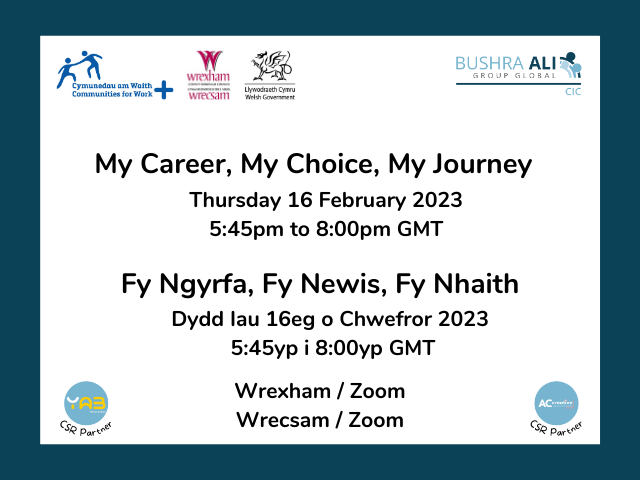 Join us to hear from some amazing individuals who continue to push boundaries of gender, age, nationality, language, social mobility and so much more. Unique journeys of inspiring individuals who continue to encourage others to know they can achieve and their differences make them stronger. We want to encourage the conversation on importance of diversity and inclusivity.
For in person attendees, there will be free refreshments.
5:45pm arrivals for drinks and refreshments. A 5:55pm prompt start. We will be live on Zoom from 5:55pm.
This event will take place in person in Wrexham, North Wales but will also be accessible live via Zoom. Please select the correct option when booking your place. The Zoom link will be sent to you separately.
---
Ymunwch â ni i glywed gan unigolion arbennig sy'n parhau i wthio'r ffiniau o ryw, oed, dinasyddiaeth, iaith, symudedd cymdeithasol a llawer mwy. Siwrnai unigryw o unigolion ysbrydoledig sy'n parhau i annog eraill i wybod beth allant nhw gyflawni a bod eu gwahaniaethau nhw'n gryfderau. Rydym eisiau annog y sgwrs ar bwysigrwydd o amrywiaeth a chynwysoldeb.
Ar gyfer mynychwyr corfforol, bydd lluniaeth am ddim.
Cyrraedd am 5:45yp am ddiodydd a lluniaeth. Dechrau'n brydlon am 5:55yp. Byddem yn fyw ar Zoom o 5:55yp.
Bydd y digwyddiad yma'n digwydd yn gorfforol yn Wrecsam, Gogledd Cymru, ond gallwch hefyd ymuno'n fyw dros Zoom. Dewiswch yr opsiwn cywir pan rydych yn archebu eich lle. Byddwch yn derbyn y linc Zoom ar wahân.