Global Group Community Interest Company hosts Community Anti-Social Behaviour Event
The Bushra Ali Group Global Community Interest Company hosted a panel discussion entitled 'Tackling anti-social behaviour in our communities' last month at YaB in Wrexham.
Funded by the National Lottery Community Awards for All grant, the discussion saw Mark Pritchard as Leader of the Council, Peter Humphreys from YaB, Alison Watkin from the Council's Community Cohesion Team, Monique McKevitt Senior District Crown Prosecutor, and Inspector Luke Hughes of Wrexham Police take part in the discussion, answering questions from the community.
The community heard about the Council's various anti-social behaviour initiatives, including the Safer Streets Project.
In turn, the panel were able to hear the community's thoughts on `no go' areas in Wrexham; where and why they do not feel safe when out and about, and the adverse impact that anti-social behaviour has on the local community.
Mark Pritchard, as Leader of the Council, said:
"Wrexham is somewhere I have lived all my life and am proud to call home. No place is perfect, but I feel Wrexham has no `no-go areas' and I would hope the people of Wrexham, and the people visiting Wrexham, feel safe here".
Peter Humphreys of YaB commented,
"We need to think about education in different ways now. It is not just in school. Young people are influenced by platforms like Tik Tok.  The Council and Police need to think about coming to speak to, and engage with, the youth in places like YaB where they feel at home – and have played a part in building the community spirit here."
Bushra Ali, of The Bushra Ali Group Global Community Interest Company which hosted the event, concluded:
"Wrexham was described by all in attendance as a place they are proud to call 'home', but we all want to ensure that the anti-social behaviour that is taking place is quickly addressed and that people's concerns are not being ignored.  The invaluable 'lived' experience shared at the session plays a part in the decisions being made to ensure our community feels safe, supported and included when it comes to the conversation on tackling anti-social behaviour in our town."
Recently, Bushra, also of Bushra Ali Solicitors, was awarded the High Sheriff of Clwyd 'Special Award' for her services to the community.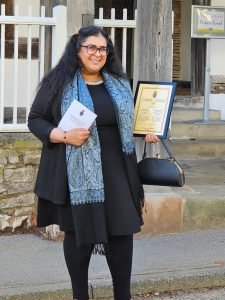 ---
Cwmni Buddiant Cymunedol Grŵp Byd-eang yn cynnal Digwyddiad Cymunedol ar Ymddygiad Gwrth-gymdeithasol
Mis diwethaf, fe gynhaliwyd y Cwmni Buddiant Cymunedol Grŵp Byd-eang Bushra Ali trafodaeth panel â theitl 'Taclo ymddygiad gwrth-gymdeithasol yn ein cymunedau' yn YaB yn Wrecsam.
Wedi'i gyllido gan grant Gwobrau Cymunedol i Bawb y Loteri Genedlaethol, gwelodd y drafodaeth Mark Pritchard fel Arweinydd y Cyngor, Peter Humphreys o YaB, Alison Watkin o Dîm Cydlyniad Cymunedol y Cyngor, Monique McKevitt Uwch Erlynydd Cylch y Goron, ac Arolygydd Luke Hughes o Heddlu Wrecsam yn cymryd rhan yn y drafodaeth, drwy ateb cwestiynau'r gymuned.
Fe glywodd y gymuned am ragor o fentrau'r Cyngor ynglŷn ag ymddygiad gwrth-gymdeithasol, gan gynnwys y Prosiect Strydoedd Saffach.
Yn eu tro, gafodd y panel gyfle i wrando ar feddyliadau'r gymuned am ardaloedd 'no go' yn Wrecsam; ble a pham nad ydynt yn teimlo'n ddiogel yn yr ardal, a'r effaith groes caiff ymddygiad gwrth-gymdeithasol ar y gymuned leol.
Dywedodd Mark Pritchard, fel Arweinydd y Cyngor:
"Rwyf wedi byw yn Wrecsam hyd fy oes ac rwy'n falch i'w alw'n gartref.  Nid oes le perffaith, ond rwy'n teimlo nad oes gan Wrecsam ardaloedd 'no go' a byddwn yn gobeithio bod trigolion ac ymwelwyr Wrecsam yn teimlo'n ddiogel yma".
Dywedodd Peter Humphreys o YaB:
"Rydym angen meddwl am addysg mewn ffyrdd gwahanol nawr. Tydi o ddim mewn ysgol yn unig. Caiff pobl ifanc eu dylanwadu gan blatfformau fel TikTok. Mae'r Cyngor a'r Heddlu angen meddwl am ddod i siarad a chysylltu hefo'r ieuenctid mewn llefydd fel YaB, sy'n teimlo fel cartref iddyn nhw – ac wedi chwarae rhan mewn adeiladu ysbryd y gymuned yma."
Gorffennodd Bushra Ali, o Gwmni Buddiant Cymunedol Grŵp Byd-eang Bushra Ali a gynhaliodd y digwyddiad, drwy ddweud:
"Cafodd Wrecsam ei ddiffinio gan bawb a fynychodd fel ardal maent yn falch i alw'n 'gartref', ond rydym eisiau'r sicrhad caiff yr ymddygiad gwrth-gymdeithasol sy'n digwydd ei ddelio hefo'n sydyn ac nid yw pryderon y bobl yn cael eu hanwybyddu. Mae'r profiadau 'byw' amhrisiadwy a rannir yn y sesiwn yn chwarae rhan yn y dewisiadau sy'n cael eu gwneud i sicrhau fod y gymuned yn teimlo'r diogelwch, cefnogaeth a'r cynhwysiant pan mae'n dod i'r sgyrsiau ar daclo ymddygiad gwrth-gymdeithasol yn ein tref."
Yn ddiweddar, derbyniodd Bushra, hefyd o Gyfreithwyr Bushra Ali, 'Gwobr Arbennig' Uchel Siryf Clwyd am ei gwasanaethau i'r gymuned.